Is there anything cuter?
Maybe baby toes. Or baby ears. I've always been in awe of their perfect tiny ears. Or how about their precious little fingers?
But anyway, back to hats.
I love a good sunhat on my girls, both for the cute factor and that it protects their faces and eyes from the burning sun.
To backtrack a bit, when I was a kid, I had an obsessing with Little House on the Prairie, and would occasionally wear a prairie bonnet. I made the mistake of wearing it to school once in the second grade. Not cool.
But now, with the popularity of Pinterest and Etsy, everything old is new again, and granny-chic is chic indeed.
So, I felt inspired to look around for some modern takes on the old prairie bonnet idea. I found some good ones…
If you'd like an option that's already made and ready to go, Urban Baby Bonnets has some absolutely adorable options. Love their fabric choices!
I'm thinking of making my own, since I have some fabric that seems like it was waiting for just such a project. Here are some great pattern options.
Little Betty Designs has a great looking pdf pattern you can purchase through etsy. It looks super super cute and the price for the pattern is quite reasonable.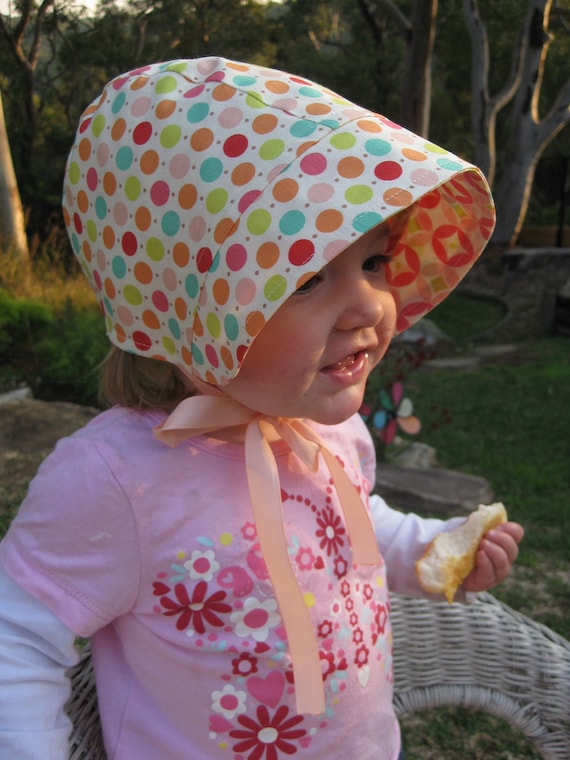 How cute is this sweet Abigail Baby Bonnet with the ruffle brim from I Think Sew! I'd never seen this site before, but they have several other cute patterns for kids that I'm interested to try.
This free pattern looks so adorable, and I love that there is a photo tutorial walking you through the steps to make one. It only comes in a size up to 24 months, so if I go with this pattern, I'll need to either make a different style for my older daughter, or see if I can tweak the pattern to fit her size.
I'm hoping to get some sewing time over the next few days, so I'll be back with an update and some photos after I can make some hats!